Poke Ball Z
Poke Ball Z
This is an anime show created by Emblem64.
Primary Characters
Son Rikachu: He is the main protagonist of the show and is the father of Son Richu. He is the strongest of the team and is the unofficial leader of the fighters.
Son Richu: He is the son of Rikachu and is the best frend Triccalo's son, Mephlapod. He also gets stronger when he gets angry.
Triccalo: He is the father Mephlapod and use to be the king of all demons until he turned over a new leaf.
Geodin: He is the best friend of Rikachu and is a year older than him. They were friends since birth.
Machien: He is an old friend of Rikachu's as well as a rival as well.
Gyamlithe: He has a scar from when Rikachu fought him and easily beat him in the world martial arts tournament.
Chaotzu: He is an original from the DBZ series. However, since the creators did not care much for him, so they just kept him as the same.
Hitonglee: He is the fighting dojo champ and is a great ally to both Rikachu and Triccalo.
Whoopillin: He is a bit of a coward at times but in strained situations, he is a very powerful fighter.
Mephlapod: This is the son of Triccalo. He resembles his father's outfit and style of clothes.
Squirtile: He is a good friend of everyone but he looks up to Rikachu the most.
Plus + Minus -: They are the little kids of the town that always known that no matter what, they think Rikachu can stop anybody.
Zintachu: He is one of the three brothers Rikachu. He wears an armored suit and seems to be more of the comedian of the brothers. He is older than Rikachu.
Frikachu: He is the youngest and is the shyiest of the brothers.
Minachu: He is the second son of Rikachu and the younger brother of Richu.
Villains
Dagadia: He is an elite fighter that works with Rikachu's older brother, Rainechu.
Demented Rikachu: He is a full blown off experiment that was created to be an exact clone of Rikachu.
Demented Triccalo: The same as Demented Rikachu. They both were created to end the lives of both Triccalo and Rikachu.
Dr. Trikachu: He is the villain that wants the world his way.
Rainechu: He is the main antagonist of the show and is the older brother of Rikachu. He always despised Rikachu from when he lost to Rikachu in the World Tournament.
Mewota: He is the main villain of two seasons. However, he eventually is at good terms with the heroes however, he is not a good guy. He returns to pay a debt in the final season but then leaves for good.
Gigadroid: He is the main anatgonist of the series as it was revealed. He use to make the Pikachu Race his slaves and forced them to do what he wanted them to do. He also use to kill the Treecko Race for his own amusement.
Kayou Force
Denaszia: He is the weakest of the force but has the ability to manipulate space and time and has psychic powers.
Morengo: He is the second weakest and is the boughest and strongest in raw power. He sees himself as superior to anyone not in the Force.
Mayhenko: He is one of the villains and is the third strolololololololololololololololololololololololololololololololoolololololololololololoolololololoolsdjksagjfdfadslgaduyfaudsyfydsuafdastfiydsafgyudafgydugafyudgfyuadsgfodydgfdoufgoudfydgafydgsufydsyafugafudasgfyodsafpene second in command and eventually turns good. However, he returns good during the Mewota Saga.
Captain Kayou: He is extremely short however, if taken lightly, he will be deadly. He is referred to as a lethal weapon.
Gallery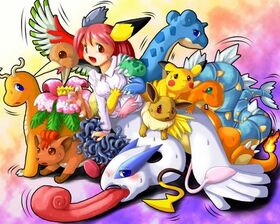 Episode List
Season 1: 2005-2006
Triccalo Saga
#
Total
Title
Directed by
Written by
Original airdate
Prod. Code
1
1
"Victory, My Name is Rikachu"
Anthony Bell
Aaron McGruder & Rodney Barnes
November 6, 2005
103
Rikachu (age 21) reminds himself of his past when he met Geodin. The two then decides to have a fight there and now to see who is the better of the two. In the flashback, despite the tricks, Rikachu turns out on top barely.
2
2
"Friends Reunion"
Anthony Bell
Aaron McGruder & Rodney Barnes
November 13, 2005
101
Rikachu then meets up with Geodin and decides to have their next fight. Geodin doubts he can win but throughout the fight, he starts to win. However, Rikachu then pulls a Kamehameha on him and defeats him. Meanwhile, Triccalo Jr. is plotting to kill the strongest of fighters.
3
3
"Demon of Souls"
Anthony Bell
Aaron McGruder & Rodney Barnes
November 20, 2005
102
Triccalo finds his way to the Stadium adn decides to sign up. He then meets up with Rikachu and Geodin. he then senses their power and believes that they are a bunch of weaklings. Rikachu and Geodin then goes to train.
4
4
"The Martial Arts World Tournament Part I"
Joe Horne
Aaron McGruder & Rodney Barnes
November 27, 2005
104
Each fighter was given a test of two. The First Step: Find the Hidden Flowers in the Meadows of Death. As each one struggled with this, Rikachu displays his way of finding hidden objects by using his Inner Self to find it.
5
5
"The Martial Arts World Tournament Part II"
Joe Horne
Aaron McGruder & Rodney Barnes
December 4, 2005
106
The second test was to fight any person in the Village of Pokemon. Geodin struggles to not find a person while Rikachu is struggling to find Triccalo to be his opponent. After witnessing Triccalo easily beating Plus & Minus, he fights him to the extreme.
6
6
"Darkess Night, Nightmare Falls"
Seung Eun Kim
Aaron McGruder & Rodney Barnes
December 11, 2005
107
Triccalo is appalled that Rikachu would even dare to stand up to him with his puny powerlevel. The two then engages in battle as the two Pluse and Minun are amazed that despite him being the inferior Pokemon, Rikachu decided to fight. Before the fight got to a closing, Triccalo hears a calling at retreats.
7
7
"Gyamlithe the Desert Bandit"
Seung Eun Kim
Aaron McGruder
December 18, 2005
109
Rikachu sets out to get stronger and goes to the Desert. However, he forgets to eat and accidentally lands in the way of Gymalithe. The two then engages in a fight. However, Rikachu wins much quicker than expected.
8
8
"Triccalo's Final Move"
Anthony Bell
Aaron McGruder
January 8, 2006
105
Triccalo goes to where his father's tomb is for the 180th time. However, he says a ritual that will bring his father to life in time. He then tells of Rikachu, believing he can be a threat. Rikachu and Geodin both gets a nigth sleep unaware of what they got themselves into.
9
9
"Haze Part I"
Kalvin Lee
Aaron McGruder
January 15, 2006
110
Triccalo puts the Village of Pokemon under a storm that makes the sky dark and the air hazy. Rikachu, Geodin and Gyamlithe all decides to solve the puzzle to confront the weather god.
10
10
"Haze Part II"
Joe Horne
Aaron McGruder & Rodney Barnes
January 22, 2006
108
After solving the puzzle of the gods, the heroes head to the Control Freak Room and decides to stop the Weather God. However, he has something in store for the young heroes.
11
11
"Preliminary Peril"
Seung Eun Kim
Aaron McGruder & Yamara Taylor
February 12, 2006
112
The day has finally arrived
12
12
"Rose Garden"
Kalvin Lee
Aaron McGruder & Yamara Taylor
February 19, 2006
113
Local worker Ben becomes Tic-Toc but gets defeated by Knightfire. Ghostman then returns with a dimension ray to try and suck Knightfire into it. Meanwhile, Zane also ruins the last part of a "life" that Troy had.
13
13
"Final Rounds"
Seung Eun Kim
Aaron McGruder
March 5, 2006
111
Returning from the schoolyard, it gets mutated and grows and soon it seeks revenge on Knightfire/Zane. It then tries to kill him when he least expects it. Meanwhile, Zane struggles to get the Smite suit off. Troy then gets it and turns into Heyfire.
14
14
"Immortal Rivalry"
Kalvin Lee
Aaron McGruder & Yamara Taylor
March 12, 2006
114
Zane thinks about becoming either a hero or a villain until he meets a familiar face. Heyfire then tries to ruin Zane's life and Knightfire's reputation when he knows everything about him and everyone he ever cares about.
15
15
"The End of the Beginning"
Sean Song
Aaron McGruder & Rodney Barnes
March 19, 2006
115
Crimehead becomes curious about the identity of Knightfire and does some research. Meanwhile, Mentallio finishes his project and plots to turn everybody in Alcatraz City into mindless psychopaths. He then tries to turn Knightfire into one.